Pricing Plans
Premium Packages
Bronze
Cheapest membership option.
No longterm commitment!
Members-only video library
Community forums
Silver
Save $200 over BRONZE plan
+ 3 BONUS courses.
Members-only video library
Community forums
3 EB basic courses
Best Value
Gold
Huge savings of OVER $645 and forever LIFETIME access!
Members-only video library
Community forums
3 EB basic courses
3 EB advanced courses
Unlimited lifetime access
Frequently Asked Questions
Important! Please read before purchasing!
There is a NO REFUND policy for all courses and memberships, for any reason! NO EXCEPTIONS (program was too easy/hard, you got injured, you lose your job, don't know how to download videos, etc). I do not offer refunds once access to paid content areas have been granted. Please ask questions beforehand if you're unsure or better yet…please don't buy, I have so much free stuff out there.
EB members can cancel their membership at any time, you simply lose access and no money is refunded from previous payments. You are free to keep any EB courses that you already downloaded but you cannot login and download them again.
All premium EB courses such as (HTB10, ABW, 30FD, DF, STPP, and STBD) can be streamed or downloaded to your computer.
You can keep them on your computer even if you decide to cancel your membership.
All EB members-only content videos can NOT be downloaded. They can only be accessed via internet by signing into an active membership account.
I create around 50 new members-only videos a year, growing rapidly as time passes. These video topics are about 50/50 between ideas that I make up myself as well as requested personally by members.
I'll also be adding videos of other experienced boxers to share their take on boxing techniques, training, and strategy. You'll benefit from not only my viewpoints but also the knowledge and opinions of other boxers/experts.
While public (free) ExpertBoxing Youtube channel is intended for general boxing information, the EB membership videos are especially made to help serious boxers.
I came up with the concept of members-only videos as a way for me to release more personal and in-depth videos on boxing techniques, training, and strategy. Instead of waiting all day to release and edit a fancy video in front of the EB banner with an HD cam, I will be giving you access to the more private side of me. I'll be talking to you from my cellphone camera while I'm at the gym, at the park, my bedroom, wherever if it is that I am.
I want you to have access into my thoughts. And for you to ask me your deepest questions about boxing and I'll make videos on that subject. You'll not only get a quicker and more personal video response to your questions…but you'll also get an in-depth video that isn't made for the masses. I'll be talking to you raw just as I would with fighters at the gym. No fluff, no nonsense, just straight up boxing talk from one teammate to another.
ABSOLUTELY, you are not required to purchase a membership if you only want to buy a specific EB course.
(Although you'll find it is cheaper and better deal to purchase an EB membership. You get so much more for your money.)
The SHORT version: 1) No refunds. 2) No sharing your account or EB material with others. 3) Treat other EB members with respect.
Go HERE to read the full "Terms of Service" agreement.
Kacper Dudzinski (PL)
"Welsh champion in 2014, finalist in 2015. Had 21 amateur bouts (won 19, lost 2) and got 2nd pro fight in 3 weeks time. Apart from being involved in so many gym sparring/training with world class amateurs and pros, ExpertBoxing probably played the biggest role in my career as I was following the tips, corrections and little adjustments through the last 5 years of my career. Funny enough sometimes in changing room before a fight, instead of listening to the trainer I was thinking about all of Johnny's advices and stuff and it's even more funny that it usually worked.
The way he presents stuff is so much more advanced and helpful as is not as obvious as all other cheap boxing videos you can find on Youtube. His videos are something different as he is describing the way of feeling stuff,…
(Full review)
Jordan Johnson (USA)
"Hey Johnny,
I've been following your blog/youtube since my first day in boxing. This past April I won the Sr. Novice Heavyweight Golden Gloves in Chicago. I just want to say your vids have been helpful and inspirational along the way. I've had to learn the techniques you talk about the hard way in the gym. But you've always been another great resource for knowledge.
Your footwork dvds will help me win the advanced division next year! I've been practicing the principles from the first 2 days and already noticed a huge improvement in my confidence, footwork, and head movement due to my new understanding of my "center". I now understand one of the huge differences between me and the pros I've spared with is their relaxation and use of their center of gravity. My legs have gotten very…
(Full review)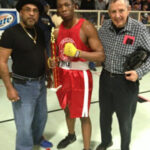 Skyler Carson (USA)
"I started off my amateur career with an 0-2 losing record because I lacked confidence and knowledge about the sport. I stopped boxing until I turned 18, two years later. Being someone who loves technology, Google is my go-to place where I found Expert Boxing.
I can honestly say that Expert Boxing has helped me grasp and understand boxing early in my career and understand the fundamentals. Ended my amateur career as 20 – 7 and won multiple titles before turning pro. I can say Expert Boxing has definitely been a factor in my success and progression in the sport."
Misha K. (RU)
Man it's so much information in your new video course. Like A LOT just WOW. Like i can just see how the trainers here teach people just one technique and say it's the only right technique but I watch your videos and I see that that techniques is just one of like dozens and by sticking to only that one technique you limit yourself A LOT. It's crazy good, man.
That's hands down the best product out there. It is just worth paying 200-500 dollars and i think when people realise how valuable that info is they will buy it for sure.
Juan (MX)
As always: GREAT. I have made sparring 3 times, last time my trainer said to me "hey Juan you do some movements like a professional but sometimes u fight terrible" what I try to say is that those movements are thanks to your videos or advices, on the other hand IM A BEGGINER.
thanks again Johnny.
Miles (USA)
Johnny,
Thank you for the quick response. I'll be signing up soon. BTW, all the superb YouTube videos you've produced prompted me to try and take this interest to the next level. See you online and I look forward to your lessons. Have a great day!
Thank you
Miles