The #1 Online Boxing School
Accelerate your boxing development and raise your boxing IQ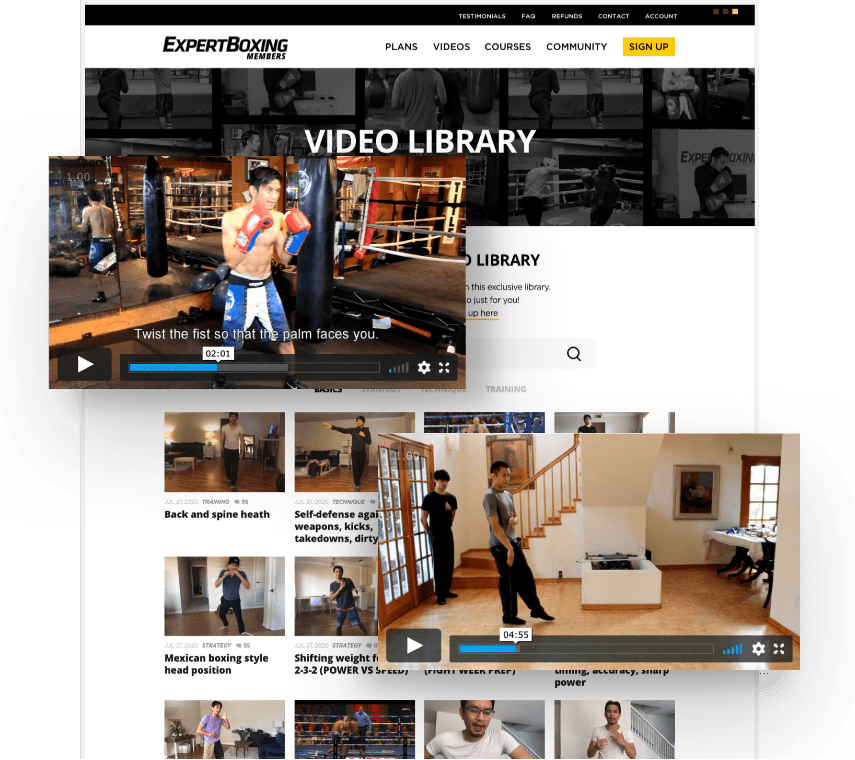 Videos
Exclusive video library just for EB members
Short videos focused on advanced details and subtle nuances of boxing technique. I also do video studies highlight footage from pro fights. I also take community requests making (nearly) ANY video that you want. It's like my Youtube channel but private and more advanced!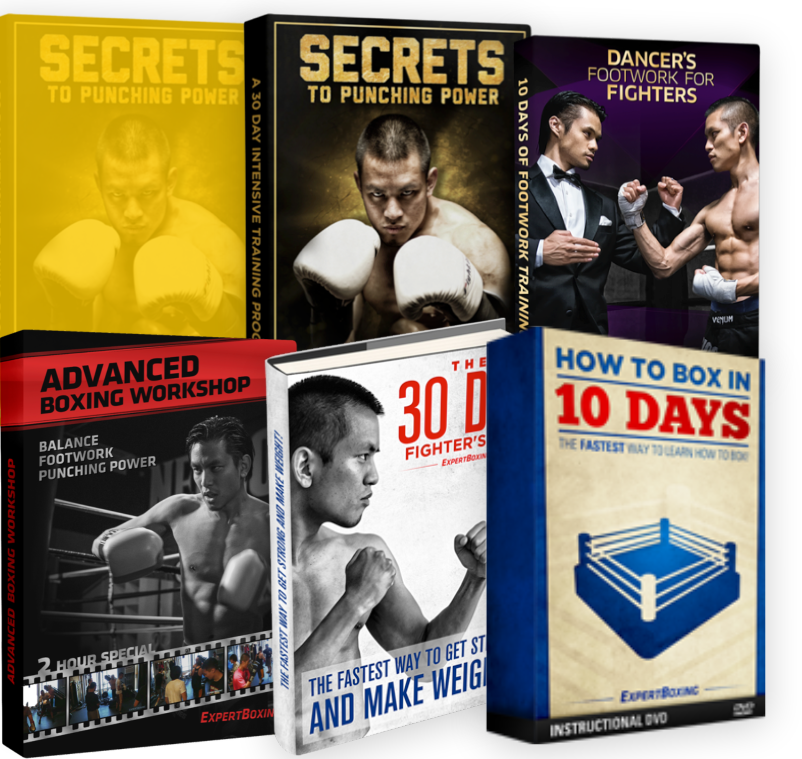 Courses
FREE (or discounted) access to EB courses
Silver Members
Get access to all 3 basic EB courses
Gold Members
Get lifetime access to all 6 EB courses
This includes the highly-acclaimed SECRETS to Punching Power and SECRETS to Boxing Defense. GOLD members also get free access to all future content, videos, or courses that I make…FORE VER!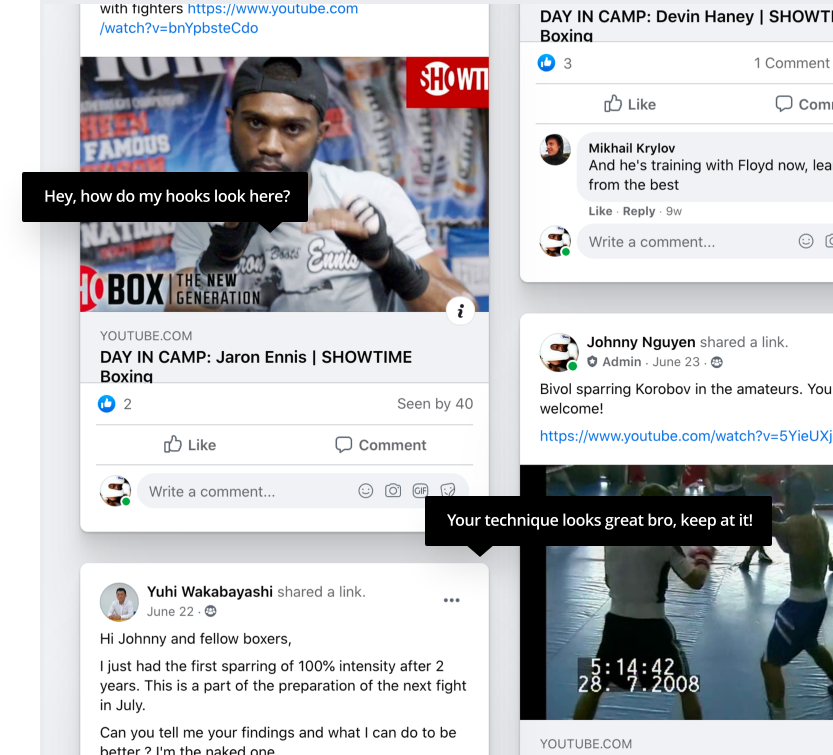 Community
Private Facebook group just for EB Members
Meet other serious fighters in the private EB Members Facebook Group. Discuss techniques, fight videos, make video requests, or share videos of yourself for feedback from a POSITIVE community. Become friends with a wide range of beginners, serious amateurs, and even pros in here.
Testimonials
What others fighters are saying
KD
I have only watched few videos of Secrets to Boxing Defense but so impressed … the knowladge Johnny Nguyen has and the way he share it with us all is incredible . Defo material for someone who never box , as same as for someone who boxed all theirs life 👊👊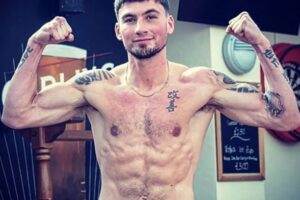 Scott Murray (UK)
–

Pro boxer

–

Boxing coach
My boxing background:

I've had had 40 amateur boxing fights. I was ready to turn professional in my mind and my coach offered me the opportunity, however due to a bad knee injury that had a lot of cartilage removed leaving me with almost bone on bone, I couldn't go ahead. I had to surgeries over 2 years and had to train myself to walk again twice. Had my own boxing club and coaching business…

(Full review)
SouthPaw68 (USA)
The dance moves workouts have been amazing. Had a foot injury that has gone on for about two years now and the exercises are helping to dramatically reduce foot and ankle pain it created. Realizing the injury was most likely caused by underdeveloped: foot and calf muscles. Also interesting that basic things having nothing to do with boxing like walking through crowds in rush hour has gotten much…

(Full review)
Miles (USA)
Johnny,

Thank you for the quick response. I'll be signing up soon. BTW, all the superb YouTube videos you've produced prompted me to try and take this interest to the next level. See you online and I look forward to your lessons. Have a great day!

Thank you
Miles
Pricing Plans
Premium Packages
Bronze
Cheapest membership option.
No longterm commitment!
Members-only video library
Community forums
Silver
Save $200 over BRONZE plan + 3 BONUS courses.
Members-only video library
Community forums
3 basic EB courses
Best Value
Gold
Huge savings of OVER $645 and forever LIFETIME access!
Members-only video library
Community forums
3 basic EB courses
3 advanced EB courses
Unlimited lifetime access
Frequently Asked Questions
Important! Please read before purchasing!
There is a NO REFUND policy for all courses and memberships, for any reason! NO EXCEPTIONS (program was too easy/hard, you got injured, you lose your job, don't know how to download videos, etc). I do not offer refunds once access to paid content areas have been granted. Please ask questions beforehand if you're unsure or better yet…please don't buy, I have so much free stuff out there.
EB members can cancel their membership at any time, you simply lose access and no money is refunded from previous payments. You are free to keep any EB courses that you already downloaded but you cannot login and download them again.
EB courses (HTB10, ABW, 30FD, DF, STPP, and STBD) and membership videos can only be accessed (via internet streaming) by signing into an active membership account.
You'll need a solid internet connection to view the videos. Videos can no longer be downloaded.
Existing customers that bought my stuff before DEC 2020 will still have download access.
Ebooks and workbooks will still be downloadable.
I no longer for allow video downloads new customers because of bandwidth issues with modern 4K/HD quality videos. It doesn't make sense for everyone to download 500GB worth of videos when they can simply stream it. As always you will have lifetime access if you buy the course individually or an EB GOLD membership.
I create around 30-50 new members-only videos a year, growing rapidly as time passes. These video topics are about 50/50 between ideas that I make up myself as well as requested personally by members.
I'll also be adding videos of other experienced boxers to share their take on boxing techniques, training, and strategy. You'll benefit from not only my viewpoints but also the knowledge and opinions of other boxers/experts.
New courses are not created as often. Just to not create any expectations, I will simply say RARELY or NEVER. They are so exhausting and expensive to make so I keep telling myself I'll never do it again. (But I do secretly have 2 being marinated right now.)
While public (free) ExpertBoxing Youtube channel is intended for general boxing information, the EB membership videos are especially made to help serious boxers.
I came up with the concept of members-only videos as a way for me to release more personal and in-depth videos on boxing techniques, training, and strategy. Instead of waiting all day to release and edit a fancy video in front of the EB banner with an HD cam, I will be giving you access to the more private side of me. I'll be talking to you from my cellphone camera while I'm at the gym, at the park, my bedroom, wherever if it is that I am.
I want you to have access into my thoughts. And for you to ask me your deepest questions about boxing and I'll make videos on that subject. You'll not only get a quicker and more personal video response to your questions…but you'll also get an in-depth video that isn't made for the masses. I'll be talking to you raw just as I would with fighters at the gym. No fluff, no nonsense, just straight up boxing talk from one teammate to another.
ABSOLUTELY, you are not required to purchase a membership if you only want to buy a specific EB course.
(Although you'll find it is cheaper and better deal to purchase an EB membership. You get so much more for your money.)
The SHORT version: 1) No refunds. 2) No sharing your account or EB material with others. 3) Treat other EB members with respect.
Go HERE to read the full "Terms of Service" agreement.